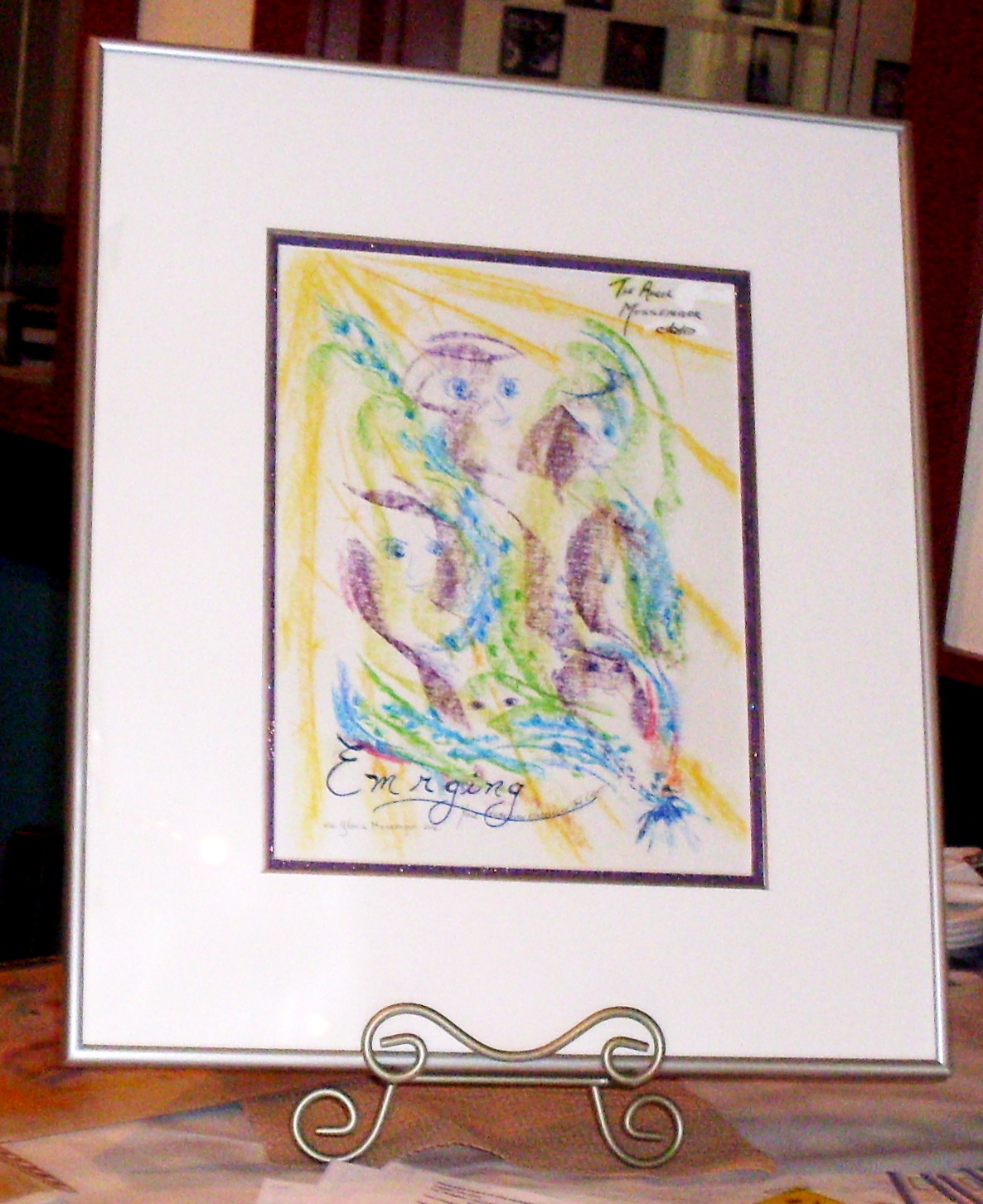 QUESTION:
ANGELS WHAT IS YOUR TASK WITH US ON EARTH?
Quote: "We are to answer here … We are assigned the task of assistance and guidance in all areas of your life.
We also give you freely our eternal love...as it is to this focus of ALL direction.
And we shower upon you this unconditional acceptance to your tasks of choice.
As the love flows and our focus remains … it is to this focus of ALL and the expression to gain ...we do assist guide and direct in your best interest always.
We are the vibration & thoughts of the ALL Source
You are truly loved...your Guardian Angels of The Light."
Questions Often Asked About Gloria's Channeled Angel Portraits
Frequent Questions: … answered by Gloria Messenger
How does Gloria connect with my angel(s)?
During meditation I go into my personal 'messenger' open-channelling. This allows me to relax and connect securely with my Angels. The recipient's name & birthday is then offered. The Angels energies expand and connect. Then begins personal guidance directly from your/the recipient's Angels energies that I receive via automatic writings and then into displaying the Angel portrait artwork reflection.
What does Gloria need from me to be able to connect with my angel(s)?
All that is required to facilitate this open channelling of Your Angel Energy portrait is the FULL NAME (including birth or married names) and BIRTHDATE of the recipient.
Do I need to be physically present while Gloria is channelling my Angel(s)?
Your physical presence is NOT required to channel Your Angel portrait. The Angels facilitate this amazing connection during my meditation.
How long does it take Gloria to channel my angel(s)?

It can take up to 4 hours. It depends on the amount of guidance the Angels wish to write and draw. (This includes the transcribe & typing up of messages for ease of reading) After the channelled portrait package is completed the recipient then receives it by Angel express. (or by the 'messenger of choice' e.g. postal service, etc.)
Can I order Gloria's Angel Portrait work for someone in another country?
Distance is no problem and YES these channelled portraits can be sent and have been sent around the world. The recipient's Full Name & Birthday is all that is required to facilitate these Angel Energy Portraits.
Does Gloria really channel these Angel Energy Portraits in meditation with her eyes closed?
Yes, my eyes are closed when I begin the meditation. During the exchange process from the automatic writings to the artwork, a flickering occurs with my eye lids opening & closing, then closing for most of the artwork channeling with a flickering occurring again at the finish of the Angels Energy portrait. (as captured for TV segment)
Gloria, how do you draw these portraits, when you are an untrained artist?
Following receipt of the automatic writings, the portrait begins. My hand is lifted and continuously directed to hover and move over the chalk pastels placing these selected chalks onto the art paper. The result is a colourful, alive, mirror-likeness of the recipient with the layered application of their Angels Energies showing their traits, talents and personality. A very empowering visual observation of Angel Energies in our lives here.
What size is Gloria's ANGEL portrait, and what can I do to make it more prominent in my life?
Creativity flourishes as I read from recipient communications. These (11"x14"/28.5cm x 36cm size) Angel Energy portraits are often framed & matted, laminated, copied and scanned for personal letterhead, bags, t-shirts, key-tags, journal cover inserts, and also miniaturized for a shoulder tattoo. Create your own unique application for impact in your life, as well as display it close-by.
Do Gloria's Angel Energy portraits really appear to move within the frame?
Yes, this is the 'layering aspect' of these infinite Angels' Energies. Personal exclamations and testimonials are featured on my website. Personally my own Angel Energy portrait from 1994 continues to reflect my Soul growth on my path. This is prevalent in both Personal and Business Angel Energy portraits! Another magical Angel empowerment display offered to us to wake-up to Our Friends in High Places.
Gloria, please tell me HOW does your channelling work for me to see my Angels?
Once the Angels Energy Artwork is completed, the visual reflection offers up the energies of YOUR Angels within the shapes, colours, movement and light. As the portrait is fully examined, one can see the energies of their own Angels layered with empowering recognition.
Gloria, have these messages from our Angels proven to be accurate? Do they guide me today?
Yes, there are many personal testimonials of the accuracy of these messages on my website. From guiding in detail to a thought introduced for the next big step in the recipient's life. The guidance is current and also relevant for life.
Gloria, what is a Mission Reminder?
A Mission Reminder offers a written prompting to lift your memory of the Mission Choice you designed for your life adventure. Often the first choice we make of an Overview Mission is also offered from Your Angels. This is an empowering thought lifting to recognize Your Mission.
Gloria, what is a Soul Glimpse?
A Soul Glimpse offers an open communication with the recipient's Soul. The Soul is a recognized empowerment of truth. It is the energy source that resides within each of us. One's Soul is the driving force of our energy team. (Soul Team = comprises the energies of our Body, Mind, Ego & Soul) More understanding is offered in my book A Mirroring Discovery with Angel Visitation!
Gloria, what will happen when I begin to experience your guided meditations?
This will differ from each listener. Repeating the visualization can lift a 3-D effect into the listener's mind's-eye. It is said that 'prayer is talking to God and meditation is listening to God!' Personally I emphasise that the benefits of meditation are wondrous!!!
Gloria, is the Angel's Name important?
The Angels do not require names however they conveniently offer us communication name to assist with enhancing a personal connection. YES this 'special name' can lift supportive memories or be a nickname/endearment term. There are additional messages within the letters and Name/word. With the portrait package, exercises are offered to assist lifting this 'AHH HA' insight of your Angel selected communication name.
What will your book A Mirroring Discovery with Angel Visitation offer me?
Well in addition to the obvious in the title, this book can initiate the desire of detective work to uncover the clever clues placed within our life journey. It can assist you set up and 'Angel Alert'. Also, it can assist a bigger picture visual of our life path and choices. Imagine understanding what a … Swing- Exchange-Venture is! Also, how intimate and precious our Soul team is to our enlightenment! Many of our everpresent questions are answered in this book.
Inspirational message from The Angels of The Light ... read for the 911-10th Anniversary in September 11th, 2011, Seattle, Washington, USA.
Gloria Messenger was asked to contribute a reading from ...
The Angels of The Light:
"A DISCOVERY OF ONENESS IS THE CLUE THAT ANCHORS OUR WORLD!"
"An approach of LOVE does engage and lift all our senses to enable the vision of ALL LOVE to expand. The expression of all encompassing and empowering love can lift the disenchantment of indifference expressed to others on this journey of earth education of our soul. It is in the awareness that the impact does access...
to enable a change.
We say here, the journey is to see others in a light of acceptance to their mission application ... this does then enable an action of forward momentum in the positive ... OR .. does continue the cycle to repeat indifference.
The engaging of success to each and every Soul's mission is to LIFT the awareness of ONENESS and the engaging of a school of thought to a quantum leap into...
ALL Love application."
Remember: Discovery Of Oneness is the CLUE that anchors our world! ... the Angels of The Light."
Awareness of the Angelic Guidance offered to You in life is EMPOWERING!
Your Angels are Continuously Reaching out to You!
Copyright © 2007 Gloria Messenger. All Rights Reserved.
Website Published by True Emotions Artwork Plus