Featured Angels Channelled by Gloria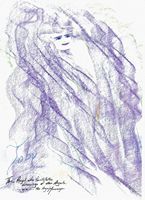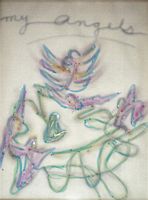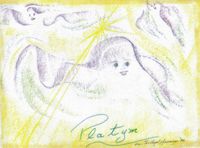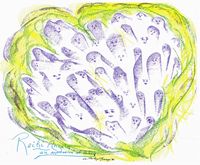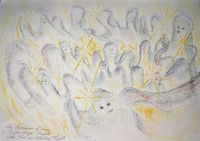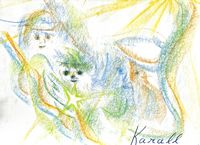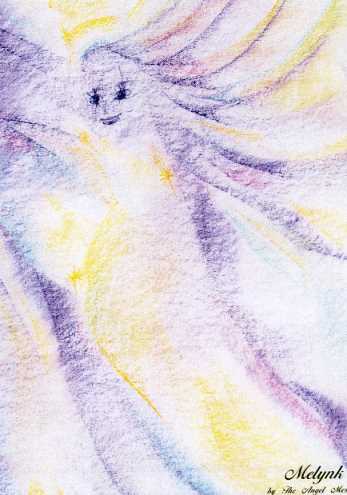 Book Cover & Husband's Angel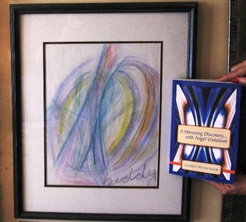 Multipleez
Laughter Yoga Angels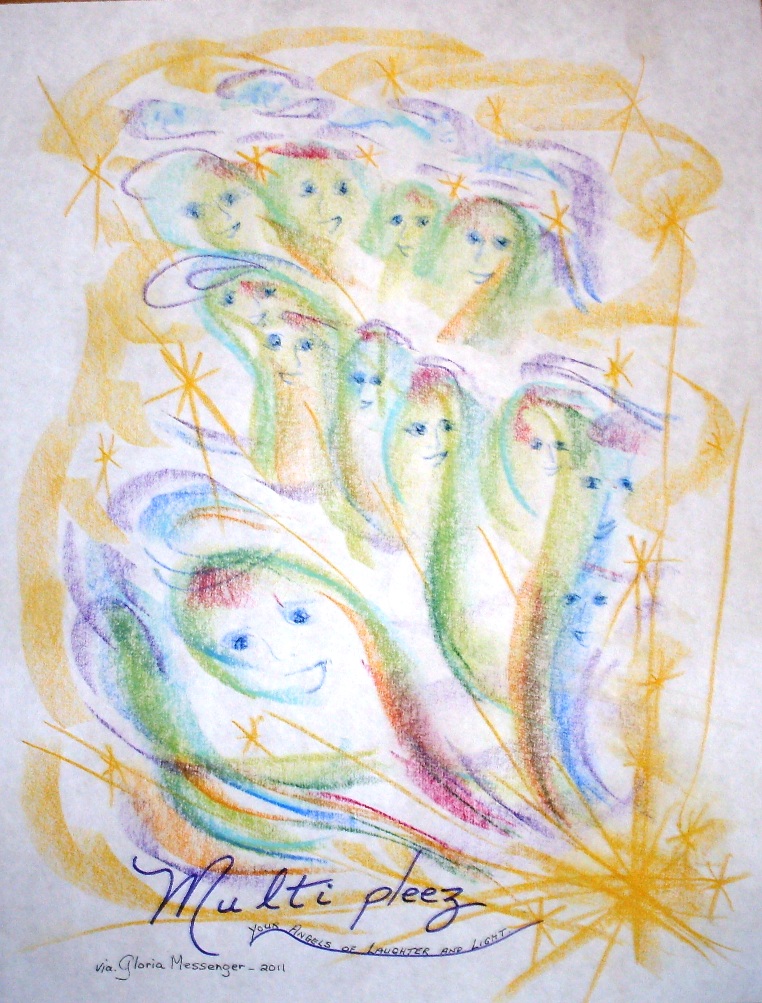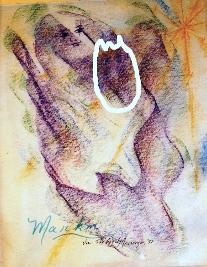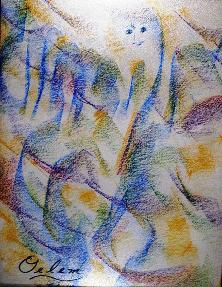 While Every Angel Portrait is Special...
The Following are Especially Meaningful...
Both to Gloria and the Recipients of Each You See Here...

Toby...The Angel who facilitates drawings of other people's angels as they are channeled via The Angel Messenger. Read Gloria's story
My Own Angels...Simply called my angels... shows four Archangels in a circle as well as three Guardian Angels in stacking order at top of drawing exchanging and directing ribbons of energy to the soul as I sit in the middle. (view was requested from their perspective as they watch me in meditation)
Platym (Pronounced Play Time)...This angel was channeled for my Mother, Wilma... She also experienced Angel visions that she shared with me and our readers of the Angel Awareness Newsletter. Join Gloria's Mail List to Start Receiving Yours Today!

The focus suggested to her by her angels was a light approach to PLAY-TIME her interpretation of her Angel's name.
She is greatly missed and all who knew her here on earth hope she is enjoying an abundance of play time in heaven with her Angels.
Reiki Angels...commissioned by Lee (Allman) Royer (LYLA). On May 6, 1996 this question was asked of The ALL/Angels of the Light - "Is there a Reiki Angel that oversees and assists with Reiki Healing? If So, please draw this angel and offer guidance and direction."

The overall portrait appears in a shape of the palm of an open hand...as if holding 50 angel faces within it. A golden colour is intermixed with green and violet as if an aura enclosure of these faces.
Most of the 50 faces are presenting in violet colour, however, some appear to lift from the white spaces in between. The facial expressions range from smiles, alertness, song, humour and offer a lifting of joy.
Reflexology Angels...commissioned by J Banks of Waterloo..."An expression of many" was channeled on October 21, 1996 from The ALL/The Angels of the Light.

The channeled portrait of the Reflexology Angels shows 11 faces which seem to be touching or joined together. There are stars sparkling throughout the drawing. Colours of Violet - Green - Blue - and Red with Golden Light appear everywhere.
The overall shape of the drawing resembles a flower in bloom, i.e. open rose petals.
Karall...My First Pet Angel...commissioned by Carolyn Shannon, of Venting Creatively for her beloved cat, Sammy Shannon...a true angel on earth he was able to melt the hearts of ALL who met him.

The star that sits boldly in front of what we percieved as Sammy was very profound in that not only did he open Carolyn's heart he also sat next to her while she channeled the music for her CD, Creative Chakra Chimes and later the background music for My Angel Meditations (Carolyn cannot play any musical instrument).
Sammy Shannon is no longer here in his physical form. However he lives on in all of Carolyn's Books, Heartworks and Workshops.
Melynk...While preparing for an Angel Workshop in Simcoe, Ontario, Canada, I requested the Angels of The Light provide me with a couple display Angel Portraits. As I arrived and began to set up the display prior to the start of the workshop, one of these portraits appeared to be an uncanny resemblance to the hostess, especially to the areas of the eyes. As I had only spoken to her over the phone, we were both in awe of this Angel portrait resemblance, and concluded that the portrait was her Angels. Amazing is the word to describe those in the presence of this observation. Could the second Angel portrait meant for display also have its recipient attending this workshop with a remarkable resemblance observed? Melynk - this second Angel portrait has a mission to also connect!

During the Angel workshop, a petite participant with long strait hair well past her waist, approached me and stated that she was drawn to this displayed portrait. The resemblance was again remarkable, a mirror image of her. This story continues...
The Story Behind The Cover of My Book,
A Mirroring Discovery...with Angel Visitation
Amazing guidance places me in the space of awe!

I share here my divinely guided experience of how the cover of this book came to my attention.
It was a blistery night ... ooh just joking... it was actually a bright sunny morning and the idea had just been planted in my mind to have a mock-up temporary cover for this book adventure that had been channelled in 33 days. My go-to-person Carolyn Shannon was open to the request and would get to it when he could. Surprisingly an amazing email and attachment was received from her the very next day.
She wrote that the idea would not leave her sleep and she was directed to open her computer into a picture gallery site she had never used before. The first one she opened displayed a reflective vision that she thought may fit the title of this new book. Curiosity was replaced with pure awe as I opened the attachment. The photo staring back at me was a close-up vision that amazingly resembled the very first Angel portrait I had channelled in 1994, my husband's Angels!
Carolyn had never seen this portrait. Could this be divinely guided? Where the Angels working through Carolyn? I then remembered, the Angels writing to me ... that when the book was finished, our years of open connection would appear to come full circle. WOW, this certainly does complete the circle and take me back to the very first time the Angels visited me in meditation! Everything fell into place and I was able to secure this cover for A Mirroring Discovery ...with Angel Visitation. Thank you Angels for another little miracle!
Cover Meaning: "THE GAIN TO SEE ... IN EVERY BLADE OF GRASS AND IN EVERY VISION OF THE UNIVERSE. IT IS TO THIS WE REACH BEYOND THE VISION ... THE ANGELS OF THE LIGHT." March 2012
Markm...Angel Portrait Update: 2014 I made an AMAZING discover today! When printing out a photo of one of my Business Guardian Angel Portraits originally done in 1997 by Gloria Messenger through The Angels of The Light... there was a symbol of something very new yet so familiar to me. Where there had only been a dark shadow for all these many years in this very area of my Angel's portrait, an OWL shape had emerged. Not just any owl!!! I recognized the exact design and playfully shaped owl that I would draw and add to my signature, more than 20 years ago! (see portrait on side bar >>>> take a look)
Recently, I had reconnected with friends from this previous life and began a work project in a city that is a four hour drive from my present home. This was a huge decision for me to revisit my past and I felt an inner movement, a huge shift in my thoughts and well-being after reconnecting with these old friends. Now I could see this personal experience as a VISUAL MIRRORING onto my Guardian Angels Portrait! Wow, it is a true reflection of Soul growth that it was time for me to gain insight from my past. I am ready to truly SEE (through the eyes of my special little owl) that there are blessings to retrieve and recognize from my past. Just as the "artist" of my Guardian Angel explains in her write-up that accompanied it, ..."This portrait of angel energy has lifted the layer of shadow previously covering the angel's heart to uncover "MY" personal Owl."
Representing a major piece of my Life Puzzle I had somehow dropped and not picked up again until now. I Am soooo loving the little owl that has suddenly emerged from what used to be just a shadowed area on my Art from the Heart Adventures Business Angel Portrait!!! It was a symbol and comforting identity friend to me. This little owl character that I used to add as part of my signature only reappeared since introducing a "taste" of an Art from the Heart Adventure to my previous home town in the last couple of years! WOW!!! You told me Gloria, that the portraits were layered to lift as we evolve in our individual life soul growth. No denying it here!!!!
Carolyn Shannon, Empowerment Starts Here & Women of Worth Online Magazine
Ask & Ye Shall Receive LOL!!!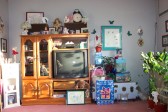 One afternoon my SO (Significant Other) was complaining that he NEVER EVER feels, sees or hear his Guardian Angel around him. In that moment...a beam of light came into the room and an undeniable face looking back at us. Knowing that he may later talk himself our of this AMAZING Appearance... I quickly and thankfully go t a few pictures of it before the light disappeared along with the face. THANK YOU Oelem for sending him this sign.
Awareness of the Angelic Guidance offered to You in life is EMPOWERING!
Your Angels are Continuously Reaching out to You!
Copyright © 2023 Gloria Messenger. All Rights Reserved.
Website Published by True Emotions Artwork Plus